HOW DO WE COLLECT THE PIONEERs INFORMATION?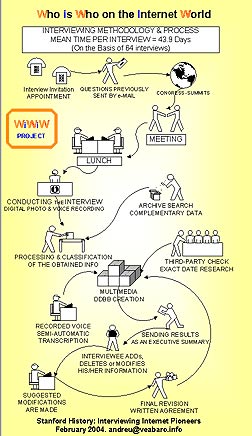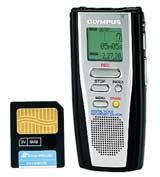 After a person is quoted and backed by (a minimum) of two other recognized pioneers, the team locates the interviewee and sets up an interview appointment. Then (usually) our "Internet Explorer" travels to meet the person within his/her environment.

The estimated personal-interview duration goes from 60 to 180 minutes and is entirely voice-recorded, using the latest digital technology devices.

THE RIGOROUS METHODOLOGY
The methodology structure follows 4 completely differentiated steps:

1) INITIAL PERSONAL CONTACT RESEARCH.
Once the target is defined, we look for a common friend to be introduced. After the acceptation, we send in advance the questions and explain our methodology, stablishing the appointment.

2) DOCUMENTATION PROCESS.
Before meeting our interviewee the WiWiW.org team collects information about his/her history and complementary material, which is classified and archived in our Multimedia DDBB.

3) THE INTERVIEW.
We choose a quiet environment in order to achieve minimum distraction and maximum audio quality. The interview is conducted, and later trasncribed.

4) PRODUCTION, INTERACTION and REFINAMENT.
From the raw transcription (sometimes +25 pages long) of the interview, we produce an executive summary. Creating a brief version, always with the same structure, based on 10 main questions. This is send to the interviewee, who is free to add, delete or modify anything. The interview is then send to his/her Contemporaries (friends, colleagues or coworkers) who enrich it with their comments. After this a group of selected (+25) people around the world read and refine the draft.



THE CLASSIFICATION
All Internet interviewed personages are classified within one or more of the eight main categories (see below):


| | |
| --- | --- |
| 1. Pioneering | 5. Associate |
| 2. University Source | 6. Provider |
| 3. Digital Journalism | 7. Net Operator |
| 4. Thinker | 8. Administration |